Fixed Air Conditioning Installation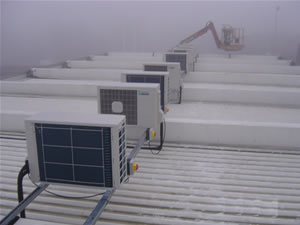 Committed to providing the complete fixed climate controlor air conditioning package, Midland Cool supply, install, maintain and service all climate control and air conditioning systems from the smallest console unit to the largest air-handlingunits and water chillers, 
We offer a nationwide service for installation of fitted air conditioning and climate control systems which can also include a heat pump for year-round use. We can have a member of our well educated team meet with you to discuss your requirements, determine which type of fitted air conditioning system is most suited to your needs and carry out a free site survey. Our technicians can then carry out the installation of the system to the highest standards.
What is the difference between climate control and air conditioning?
Central climate control and air conditioners are normally split systems, which will consist of an outdoor unit (the condensing unit) and an indoor unit (air handling unit). The function of an air conditioner is to transport heat from one area to another.
Air conditioning most commonly refers to the cooling and dehumidification of indoor air for thermal comfort. Air conditioning units are designed to reduce the air temperature and humidity within an area, such as Shopping Malls or Centres, Hospitals, and especially important in IT/Server areas and data rooms.
Climate control units are used in areas where temperature (and humidity if required) must be closely regulated whilst maintaining safe and healthy conditions within, and will provide heating as well as cooling.
Midland Cool can provide and install, maintain and service fixed energy efficient climate control or air conditioning systems, according to your requirements, including heatpumps, VRV (variable refrigerant volume) VRF (variable refrigerant flow) and through the wall/window unit.
Have the perfect infoor climate every day of the year at a reduced cost!
Air conditioning systems that heat, cool, ventilate and dry.
Energy efficient
The latest climate control and air conditioning and heating equipment we supply is designed to be as energy efficient as possible, minimizing power consumption, which ultimately leads to less CO2 released into the atmosphere. As you'd expect, our reps are consistently up-to-date with the latest industry thinking, legislation and environmental targets. We can install state of the art VRF (variable refrigerant flow) or VRV (variable refrigerant volume) fixed systems which can attract Government subsidies. The majority of fitted air conditioning systems also include a heatpump which allows you to switch the system into heat mode for all year use.
Home air conditioning can therefore reduce your heating energy bills and now via the "Green Deal" the Government has cash back incentives and ways of off-setting heating air conditioning installation costs.
For more information on our air conditioning cooling and heating air conditioning systems for your workplace air conditioning installation needs call today.
Air conditioning in every room!
Whether office or commercial air conditioning, the installation of a multi-split air conditioning system allows multiple indoor units to operate from a single outdoor unit thereby reducing the need for installation space.
Wide choices
Different types of indoor units including wall mounted, ceiling recessed, under ceiling, floor standing and many more as listed below. The ideal indoor equipment can then be selected and tailored to your individual air conditioning installation requirements.
Ducted systems
Ducted air conditioning or climate control systems are often the most practical choice for large areas where air distribution becomes beyond the reach of normal 'split-type' air conditioningor climate control units. The grilles can be placed virtually anywhere you wish and will blend unobtrusively with any interior decor. The grilles allow uniform temperature distribution in large or heavily partitioned areas. Not only are concealed air conditioning or climate control ceiling units visually unobtrusive, they are also among the quietest types of air conditioning or climate control.
Wall or floor mounted systems
Ideal for retail, restaurant and office use, these air conditioningor climate control units can be mounted at the desired level from floor to ceiling. Available in cooling capacities ranging from 2.0kW up to 11.0kW. Many have remote controls and an inexpensive heat mode option. They are 'whisper quiet' in operation. In many cases where multiple indoor air conditioningor climate control units are required they can be connected to a single external condenser box.
Under ceiling or ceiling suspended systems
This type of air conditioningor climate control unit is ideal for private or commercial premises particularly where floor or wall space is at a premium, these are available cooling capacities ranging from 5kw through to 15kw.These air conditioningor climate controlunits are very quiet in operation and can be mounted directly onto the ceiling or suspended from it at a desired height. Heating modes are available as an inexpensive optional extra and the air conditioning or climate control units are operated by either keypad remote controls or wall-mounted control panels.
Ceiling recessed cassette systems
These are perfect for setting air conditioning or climate control into a suspended ceiling. The space saving design of the cassette is perfect for offices, shops and commercial premises. The cassettes are ultra-quiet in use and are available in cooling capacities ranging from 2kw through to 15kw. According to the air conditioningor climate control model supplied the controls are either by remote keypad or wall-mounted control panel. Again, all are available with heating mode as an inexpensive optional extra.
Heating & cooling 
A pleasant ac cooled indoor climate can be enjoyed working at your desk in the afternoon whilst as night a warm constant temperature in heating can be maintained.
For more information, speak with a member of our sales team for air conditioning installation and service requirements.
Ease of use 
Our fixed climate control and air conditioning systems put you in control, whatever the desired temperature, external conditions and solar gain your premises experience.
Throughout our range of fixed climate control and air conditioning systems you have a choice of controls. These include user-friendly wireless remote control handsets, some with extra-large displays, or with wired wall-mounted keypads and panels. Features and options include a choice of fan speeds, pre-set memory and timer.
More advanced systems of climate controland air conditioning can feature interactive control software and are designed to interface directly with Building Management Systems, which means tailored control from a single central location.
Reliability
The fixed climate controland air conditioning systems we provide are as robust and dependable as they are powerful.
Midland Cool only recommends and installs the best fixedclimate control and air conditioningsystems, which have been manufactured and tested to the highest quality standards. Reliability of these climate control and air conditioning units is built-in, which means cooling and heating power as and when you need it.
At the same time, warranty cover, scheduled health checks and preventative maintenance of your climate control and air conditioning,can ensure high levels of reliability throughout the fixedclimate control or airconditioning equipment life span. You also have the additional peace of mind, if you choose, that's provided by expert technicians and / or emergency equipment backup.