Fixed Air Conditioning Installation in Birmingham and the East and West Midlands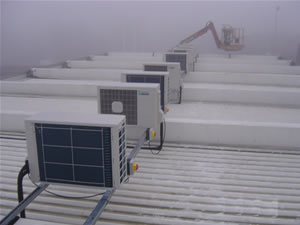 Midland Cool designs, supplies and installs fixed air conditioning systems. Whatever your business, we will have a fitted air conditioning solution able to meet your particular climate control needs.
Our fixed air conditioning solutions feature a heat pump and use the latest energy efficient technology, rated A+ or even A++, to give you lower energy costs, covering both heating and cooling needs.
A member of our team will meet with you to discuss your requirements and carry out a free site survey. At this survey our technician will determine which type of installed air conditioning system will meet your needs and design the most suitable layout, taking into account the parameters of the building.
Our F-Gas registered engineers will then carry out your air conditining installation to the highest standards and test thoroughly before final commissioning of your new air conditioning units.
We are able to offer permanent commercial air conditioning systems from some of the leading manufacturers such as Fujitsu, Daikin, Mitsubishi Heavy Industries, Mitusbishi Electric and Toshiba. This choice means we can recommend a cooling and heating system to suit your needs perfectly, maintaining a comfortable workplace temperature all year round, whatever your budget.
Commercial installed air conditioning systems are adaptable and versatile enough to meet the demands of all sectors and we have experience in supplying, among others, retail, offices, hotels, hospitals, leisure, manufacturing, creative industries such as film studios, health services and the public sector. We also supply air conditioning for business-critical server or IT rooms and our 24-hour emergency helpline offers additional peace of mind for our customers.
The area we cover from our depot in Saltley, Birmingham includes the East Midlands, West Midlands, Oxfordshire, Buckinghamshire, Northamptonshire, Cambridgeshire, Leicestershire and Warwickshire. Our Head Office in Crawley covers London, Surrey, West Sussex, East Sussex, Kent, Essex, Hampshire, Berkshire, and Hertfordshire.
What is the difference between climate control systems and installed air conditioning systems?
Central climate control systems and installed, or fixed, air conditioning systems are normally split systems, which will consist of an outdoor unit (the condensing unit) and an indoor unit (air handling unit or evaporator).
Air conditioning most commonly refers to the cooling, dehumidification and heating of indoor air for thermal comfort. Fixed air conditioning units are designed to reduce the air temperature and humidity within an area, such as manufacturing premises, shopping centres and offices and are especially important in IT/server rooms and data centres.
Climate control units are used in areas where temperature (and humidity if required) must be closely regulated, such as in healthcare premises, whilst maintaining safe and healthy conditions. Air conditioning will help to purify the air, reducing allergies and infections.
Midland Cool can design and install, maintain and service fitted air conditioning systems, according to your requirements, including heat pumps, split type systems such as high wall mounted, ceiling cassette units, VRV (variable refrigerant volume), VRF (variable refrigerant flow) and can supply most makes, models or sizes. Our most popular option is a Fujitsu system.
A safe and comfortable workplace temperature every day of the year
Air conditioning systems with heat pumps are versatile enough to heat and cool the workplace and also help to cleanse the air. Suited to almost every sector, they are particularly valuable in workplaces where heat stress, dehydration and cold stress caused by working at very high or low temperatures can occr, especially when wearing PPE.
Energy efficient
The latest climate control and air conditioning and heating systems we supply are designed to be as energy efficient as possible, minimizing power consumption, leading to less CO2 released into the atmosphere. Our sales advisers are able to advise you with the latest industry thinking, legislation and environmental targets.
We can install state of the art VRF (variable refrigerant flow) or VRV (variable refrigerant volume) fixed systems which can attract Government subsidies and are systems specifically built to suit your needs. The majority of installed air conditioning systems also include a heat pump, which is more economical than having separate heating and cooling systems.
For more information on fixed air conditioning systems for your workplace and on air conditioning installation, call today.
Air conditioning in every room
Whether office or commercial air conditioning, the installation of a multi-split air conditioning system allows multiple indoor units to operate from a single outdoor unit thereby reducing the need for installation space.
Wide choices
Different types of indoor units including wall mounted, ceiling recessed, under ceiling, floor standing and many more. Our technicians will design the ideal solution for your workplace, tailored to your individual air conditioning installation requirements.
Ducted systems
Ducted air conditioning systems are often the most practical choice for large areas where air distribution becomes beyond the reach of normal 'split-type' air conditioning or climate control units. The grilles can be placed virtually anywhere you wish and will blend unobtrusively with any interior decor. The grilles allow uniform temperature distribution in large or heavily partitioned areas. Not only are concealed air conditioning ceiling units visually unobtrusive, they are also among the quietest types of air conditioning or climate control available on the market to date.
Wall or floor mounted systems
Wall mounted air conditioning systems or floor mounted air conditioning systems are ideal for retail, restaurant and office use, These installed air conditioning systems can be mounted at the desired level and are available in cooling capacities ranging from 2.0kW up to 11.0kW.
Many units have remote controls and an inexpensive heat mode option. They are 'whisper quiet' in operation. In many cases where multiple indoor air conditioning units are required they can be connected to a single external condenser box.
Under ceiling or ceiling suspended systems
Ideal for commercial premises particularly where floor or wall space is at a premium, under ceiling 'one way blow' air conditioning systems are available with cooling capacities ranging from 5kw through to 15kw.These air conditioning units are very quiet in operation and can be mounted directly on the ceiling or suspended from it at a desired height. Heat mode comes as part of the spec and the air conditioning or climate control units are operated by either keypad remote controls or wall-mounted control panels.
Ceiling recessed cassette systems or compact ceiling recessed cassette systems
These are perfect for setting air conditioning or climate control systems into a suspended ceiling. The space saving design of the cassette is ideal for offices, shops and commercial premises. The cassettes are ultra-quiet in use and are available in cooling capacities ranging from 2kw through to 15kw. According to the make/model supplied, the controls are either by remote keypad or wall-mounted control panel. Again, all are available with heating mode as part of the standard specification.
Ease of use
Our installed climate control and air conditioning systems put you in control, whatever the desired temperature, external conditions and solar gain your premises experience.
Our range of installed climate control and air conditioning systems give you a choice of controls - including user-friendly wireless remote control handsets, some with extra-large displays, or wired wall-mounted keypads and panels. Features and options include a choice of fan speeds, pre-set memory and timer.
More advanced air conditioning systems can feature interactive control software and are designed to interface directly with Building Management Systems, which means tailored control from a single central location.
Reliability
The installed air conditioning systems we provide are as robust and dependable as they are powerful.
Midland Cool only recommends and installs the best installed air conditioning systems, which have been manufactured and tested to the highest quality standards for reliability, giving you cooling and heating power as and when you need it.
In addition, warranty cover and planned preventative maintenance of your fitted air conditioning system, can ensure high levels of reliability throughout the air conditioning equipment's life span. You also have the additional peace of mind, if you choose, that's provided by expert technicians and/or emergency equipment backup.
Many manufacturers that Midland Cool chooses to supply our fixed air conditioning systems offer a 5 year parts warranty subject to regular preventative maintenance being carried out in accordance with the service schedule.
For more information, speak with a member of our sales team for all your Birmingham and East and West Midlands air conditioning installation requirements.
Our latest update on the R22 refrigerant phase out.