Air Conditioning Servicing and Maintenance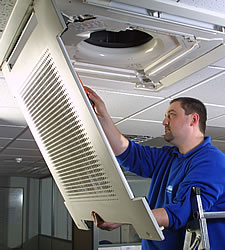 If you have already had your fitted air conditioning systems installed or you have decided from our large range of energy efficient fitted air conditioning or climate control systems and are in the process of having them installed, now is the time to think of the servicing and routine maintenance of your air conditioning and climate control equipment, which will not only prolong the efficiency and maximise the performance of your air conditioning or climate control equipment, but also to avoid costly damage which can arise through the lack of preventative maintenance and servicing.
Routine maintenance otherwise known as planned preventative maintenance maintains the efficiency of air conditioning equipment.
Planned preventative maintenance – also known as PPM – is especially relevant where installations are located to cover your expensive IT equipment, data centres, server rooms and telecom facilities, where is it important that the correct temperature is maintained. Routine service and maintenance on your air conditioning and climate control systems protects the investment you have made.
Service and maintenance agreements on air conditioning or climate control systems are also required to comply with any manufacturer's warranty.
We are more than aware that, especially in critical areas such as Data Centres, Server Rooms and Telecom Facilities, temperature is critical and disruption and financial losses can occur if your business-critical equipment fails.
Normal adjustments and correction of faults to your Air Conditioning or Climate Control equipment will be carried out by our engineer at the time of inspection. We will then provide you with a completed copy of our engineer's report and a quotation, should additional remedial work be required. You also have the additional peace of mind, if you choose, that's provided by expert technicians and/or emergency equipment backup.
Midland Cool can provide tailor made air conditioning routine service plans to suit you as well as carrying out a one-off service and maintenance visit if that is what is required.
Some air conditioning units may require additional maintenance visits in order to keep them regular, for example, a kitchen / catering area will need the filters in their air conditioning or climate control systems cleaned regularly due to grease and debris.
If you are based in London, Birmingham and the West Midlands, Midland Cool want to help you build the perfect planned preventative maintenance agreement with periodic visits at agreed intervals, minimum response times, and immediate access to our wide range of portable air conditioning equipment for any back up facilities. Call us now.
Remember - heat is the No.1 killer of IT equipment
Your valuable investments in IT, Data Centres, Server Rooms and Telecom Facilities could be wasted if the correct temperatures are not maintained: imagine the disruption and financial losses if your business-critical equipment failed? 
We understand how critical your systems are to you, and the need for them to function correctly. However, we are also able to provide temporary Portable Air Conditioning solutions, to provide a back up, in the event of a failure occurring.